Here are our predictions for the Big XII (10?, 9? who knows) Conference's first week of play. The Big XII will should have a large impact on college football as a sport this year, they have 3 teams in the top 10 and a number of spoilers who are looking to make a name for themselves. Yet it will be the off field issues that will highlight this season for the Big XII. Will we have a Big XII after this year? It's too soon to tell, but in the mean time we have football games to keep us content.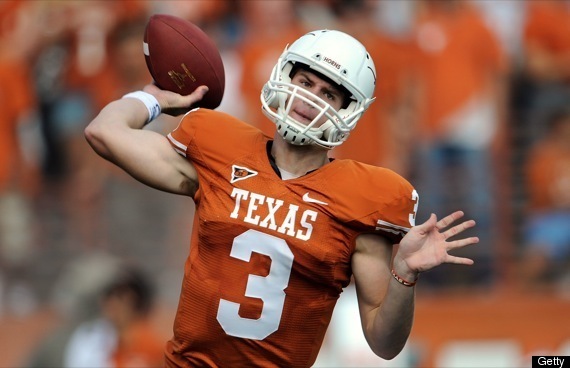 Will Gilbert be able to recapture the Texas magic?
Baylor vs. TCU
Prediction: Baylor 17, TCU 35
I applaud Baylor for scheduling a tough out of conference game in the first week. Even better, they took a risk and scheduled a non-BCS conference school that has a history of being extremely dangerous. Still, my praise doesn't win Baylor football games. TCU will jump out and look to make another statement against a Big XII school (even though they will be favored). They will play with the same ambition that Boise State, Utah and BYU bring to the table when facing off against the larger conferences.
Missouri vs. Miami (OH)
Prediction: Missouri 35, Miami 14
Missouri destroyed Miami (OH) in their game last year, and I see no reason why they shouldn't make it two in a row. The score for this contest will be much closer than last years blowout, and Miami (OH) should go on to win the MAC for a second straight year, but Missouri has their sites set on playing spoiler in a Big XII conference with three teams ranked in the top 10. Miami (OH) will keep it close for a half, and that will be all.
Iowa State vs. Northern Iowa
Prediction: Iowa State 28, Northern Iowa 10
Iowa State needs to come out to play and take the wind out of Northern Iowa's sails before they can get their offense off the ground. If Northern Iowa can get the ball moving or force turnovers on defense they have a real chance to upset Iowa State. If things play in Iowa State's favor? They will pull ahead and finish with a comfortable win. Iowa State will need to get their offense moving against Northern Iowa if they have any hopes of winning bigger games later in the year.
Oklahoma State vs. Louisiana-Lafayette
Prediction: Oklahoma State 49, LL 7
Oklahoma State has an intriguing team this year (and a top 10 ranking to go with it), and I expect some big things from them this year with a weakened Big XII. Louisiana-Lafayette will keep the game close for a quarter, perhaps causing some Oklahoma State turnovers, but will ultimately fall to an extremely potent offense.
Kansas vs. McNeese State
Prediction: Kansas 28, McNeese State 3
Kansas will struggle this season, though it wont happen against McNeese State. Expect some quick Kansas scores and a defensive fight through the later quarters. Kansas will fail to get a shutout with a fourth quarter field goal by McNeese State erasing their efforts.
Kansas State vs. Eastern Kentucky
Prediction: Kansas State 35, EK 8
I don't expect Eastern Kentucky to be a complete pushover this year, they have a potent defense. The offense, however, is another matter that will cause them to lose games. Kansas State will have some trouble running the ball past Eastern Kentucky and will struggle early because of it. By the second quarter Kansas State should have their act in gear and their rushing attempts will start to push them down the field. Eastern Kentucky simply doesn't have the offense to compete against a Wildcats team that is sure to put up points- eventually.
Texas Tech vs. Texas State
Prediction: Texas Tech 49, Texas State 10
I have never heard of Texas State...I don't know if that's my fault or theirs, but I'm going to assume its a good thing for Texas Tech. I expect Tech to swamp them early on, force a lot of turnovers and um, win the game.
Oklahoma vs. Tulsa
Prediction: Oklahoma 45, Tulsa 21
Tulsa will put in a spirited fight against the consensus #1 in the country, and they will be rewarded with a close game at halftime. Oklahoma will remember why they are the best team in the land at the start of the third quarter and begin their route without much resistance. Don't expect any Tulsa scores in the second half after a fairly impressive first half.
Texas vs. Rice
Prediction: Texas 35, Rice 10
Texas will come out looking to answer some questions and make some statements against Rice. Ultimately, they will come away with an impressive game on both sides of the ball. For a week no one will remember the horror that was the Longhorn's 2010-2011 season. Expect Rice to make multiple turnovers throughout the game while struggling to move the ball against the Texas secondary.
Texas A&M vs. SMU
Prediction: Texas A&M 35, SMU 17
This game will be played on a Sunday. Why? I have no idea.
Expect Texas A&M to bust out an early lead only to lose ground to SMU in the second. A halftime pep-talk will set them straight and carry them through the game. The real chatter will be whether or not A&M will stay in the Big XII or leave for the SEC (if they want them).